Pacific Controls cloud computing helps corporate, enterprises, private, public and government sectors transform their thoughts into reality and connect millions of devices, assets, IT services, software services, platform services and to say in single one word "Everything as a Service" through its universal cloud computing platform. With Pacific Controls Cloud computing services and capabilities, you can transform your business and reach virtually anywhere consolidating all the assets in the world virtually in a matter of minutes, need not to be IT enabled as rest of the cloud providers are offering.
Pacific Controls XaaS is a collective term said to stand for a number of things including "X as a service," "anything as a service" or "everything as a service." The acronym refers to an increasing number of services that are delivered over the Internet rather than provided locally or on-site.
Pacific Controls XaaS is the essence of cloud computing. The service examples of XaaS are Software as a Service (SaaS), Infrastructure as a Service (IaaS) and Platform as a Service (PaaS). The combined use of these three is sometimes referred to as the SPI model (SaaS, PaaS, IaaS).
Pacific Controls has packaged the service spectrum and delivers IaaS, PaaS and SaaS over its hybrid cloud. Pacific Controls rolled out SaaS service in the year 2005 where Pacific Controls delivered real time monitoring and management services by connecting their assets and infrastructure on a single platform. Pacific Controls is monitoring and managed thousand of assets live over internet and connected to our Cloud enabled Data Centers in the Middle East and rest of the world.
Pacific Controls Cloud services which have all the services consolidated in a single platform transforming the world as a XaaS (IaaS, PaaS, SaaS) as the major stream of services and other services in the realm of continuous monitoring and management of energy services bundled with dynamic end to end platform called as "Galaxy" supported by intelligent and virtual software agents called as "Gbots".
The Evolution of Cloud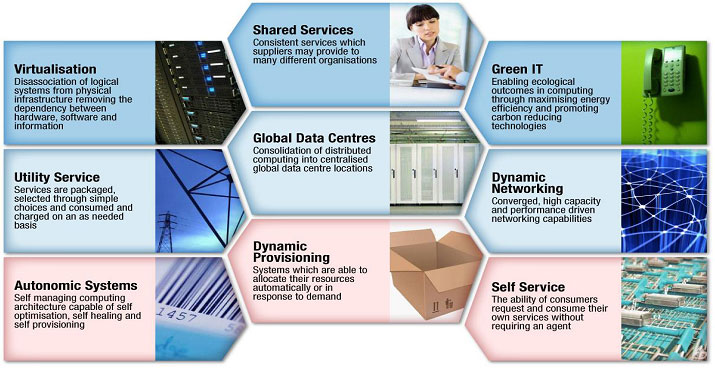 IaaS is virtualization offered as a service. Instead of spending on hardware, software licenses, storage, or network equipment a user can buy all these as a service over Pacific Controls cloud.
PaaS aims to abstract things more than IaaS. Instead of providing bare "logical" metal as a service, it delivers an application platform which one can use to implement apps. User don't work anymore (at least not directly) with the typical concepts like server, OS, and so on. Some kind of abstraction is usually available which hides all these. On top of it, several services are provided in order to shield you from "classical" infrastructure management. We are thinking here about virtual machine provisioning, load balancing, guest OS patching, and the like. In a sense, PaaS services from Pacific Controls offers an OS for the data center where:
Instead of the classical resources (CPU,memory, I/O) users are abstracting servers
Instead of the classical OS abstraction layers you have an agent infrastructure that is capable of abstracting the concept of a virtual server into a higher level element (like role for example)
Instead of the classical OS API you have a set of complex services that you can use as building blocks for your apps
Finally, Pacific Controls SaaS is at the highest level available where users get the direct services of an application online, without any kind of implementation effort. Opposed to IaaS, there's no need to manage infrastructure. Opposed to PaaS, there's no need to develop and/or manage applications. It's simply there so you can use it.
The second dimension of cloud computing refers to the place where XaaS's are deployed. Public and private are the most common places Pacific Controls are talking about today. What's interesting is what you get when you put these dimensions in perspective:
| | | | |
| --- | --- | --- | --- |
| | IaaS | PaaS | SaaS |
| Public | Pacific Controls initiative long back in this dimension initially via managed energy hosting services and more recently via virtualization | Pacific Controls have the strength to consolidate energy, computing power and storage at a large scale | Pacific Controls gained a lot of momentum when they decided to update complex on-premises apps and make them available online |
| Community | Pacific Controls strength in public sector where different organizations (like government agencies) share the same needs and interest on IaaS | Pacific Controls initiative to make PaaS a reality integrating several services within ICT realm | Pacific Controls extremely lower cost drive this approach |
| Hybrid | Consolidation between public and private | IaaS runs on top with Pacific Controls dynamic services | Transit from on-premises implementations to public ones. |
| Private | Initiated through virtualization software with stringent SLA | A reality subject to secure access and CIA | Pacific Controls doing this from a long time in the form of software and hardware virtualized appliances. |
While the 'as a Service' models are distinct and separate within the public cloud environments, the enterprise level (private and commercial) cloud is an implementation of nested capabilities from using IaaS as the foundation. PaaS is built upon IaaS taking advantage of consistent implementations and architectural models. Likewise, SaaS is built upon PaaS for much of the same reasons. There are exceptions, but those remain outside the scope in this discussion.
XaaS executed through a Cloud environment is simply more cost-effective than executing IT initiatives internally.
Traditional technology deployments happen with a high ramp-up cost and a long implementation curve before a company gains capabilities from the technology to offset costs. With XaaS, the formula is pay-as-you-go with ease and peace. The financial benefits of the pay-as-you-go models are a core argument for utility computing. The initial starts up costs for XaaS models are friendlier to the customer (service consumer) than the traditional, up-front loaded stovepipe implementations.
There are three key considerations to be evaluated when looking at implementations:
Consideration #1: Initial Cost Barriers and Planning
The cost model of a traditional implementation involves an initial capital expenditure with extended ROI implications.
Consideration #2: The Illusion of Infinite Capabilities
Cloud challenges and changes the cost model from the consumer standpoint to one that is well-aligned with the preferred rapid ROI models that businesses desire. While there may be an initial period where cost exceeds benefit / revenue, the gap between the two is much less than that of a dedicated capital expenditure model.
Consideration #3: Easy Exit Strategy
The final element to consider in dedicated solution sets versus cloud environments is that of commitment. Dedicated environments tend to remain and extend often from the tie to the investment. On the other hand, cloud workloads can quickly be retired from use without the loss of physical infrastructure capital investment.
Pacific Controls Services on Private/Public/XaaS Cloud
Platform Services
Pacific Controls provide multiple platform options that provide customers with the control, flexibility, security and scalability that they need to meet their business needs. We provide customers with the Platform Options, Services and Support they need to ensure infrastructure is instantly available to help run or support their business – not restrict fast-growth, productivity or response times to clients.
Cloud
Cloud Energy & Performance
Cloud Dedicated
Cloud Hybrid
Managed Hosting
Managed Hosting Solutions
Managed Private Cloud
Managed Collocation
MANAGED HOSTING
Customized dedicated server configurations, fully redundant and managed 24x7x365 by certified and highly skilled workforce supported by virtual managed robots monitoring the servers round the clock with proactive alarm and troubleshooting.
Pacific Controls dedicated hosting solutions combine advanced technology, proven experience and unparalleled support. Pacific Controls tailor customer's solution to fit their security, availability, elasticity and performance needs.
With a customized, dedicated solution, expert migration team and hosted support staff, customers can rest assured the transition to a managed hosted environment will be smooth and the technology supporting your business is reliable, scalable, and expertly maintained by a team of server engineers.
Managed hosting solutions demand continuous maintenance, security and monitoring. We have managed dedicated server, storage and networking solutions from alliances with industry leaders like VMware, Cisco, Fujitsu and others. Enterprise class IT infrastructure is designed to ensure the highest levels of manageability, security and scalability.
MANAGED HOSTING SOLUTION INCLUDES:
Windows Server / Red Hat Linux
Administrative privileges
Expert support, 24x7x365
Proactive Security Patching and monitoring
100% systems and uptime as per SLA
Hardware replacement guarantee as per the services chosen.
Managed backup, restore and archival
Monitoring on the server selected
Front end Pacific Controls Portal
SERVICES OF MANAGED HOSTING...
Managed Private and Public Clouds
Clouds are everywhere, but what exactly is a private cloud? – A private cloud is a dedicated hardware enabled pooled resources with virtualization layer running on top which gives flexibility to the cloud admin to create and managed multiple virtual servers/machines within a set of physical servers. Since it is dedicated only for single customers, it's only for you and only you.
A Public Cloud is opened to any customer who wants to host their services in our highly virtualized environment supported by managed and highly redundant servers, storage and networking domain. Pacific Controls public cloud is secure, scalable and robust and hosts thousand of virtual instances with inbuilt tightly controlled policies and procedures.
Extremely large workload and sensitive applications are running on Pacific Controls Private and Public Cloud
Hybrid Clouds is the essence in the realm of cloud computing. In private cloud each customer is physically separated on their own dedicated hardware whereas in public cloud the entire virtual instances are shared among large isolated secure pools. High levels of security, availability, performance and customization is provided on the dedicated hardware. However it is scalable and made elastic, optimize hardware resources and get billing for virtual machines—which are the benefits customers can get.
PACIFIC CONTROLS PROPOSITIONS FOR PRIVATE & PUBLIC CLOUD:
Windows and Non windows OS support running on each virtual machine.
You can provision new VM's and select value added services on top of it.
Manage and support virtual machines with change configuration round the clock.
Complete assistance and remote hands on to configure and deploy private cloud configuration.
Software license management.
Procure hardware as per the requirement.
Manage the entire systems, network infrastructure round the clock
Provide industry leading SLAs and guarantees.
COMPLETE PACKAGE IN A SINGLE UNIFIED SOLUTION – PRIVATE & PUBLIC CLOUD
Virtualization Platform from industry leaders in the market – Dynamic allocation of computing resources with high availability and fault tolerance features.
Single and multi tenant dedicated/shared secure environment
Team of experts with many years of hands-on experience in virtualization
Virtualization, Abstraction and consolidation layer supported round the clock
Twin fold advantages introducing hybrid solution that integrated with managed hosting and cloud solution.
Complete control on owned VM's including scalability at ease on resources
Safely online backup on snapshots with easy restore in minutes

Other Managed Hosting Services with security, manageability and high availability.
Powered by industry leading Virtualization technologies. Not binded with single virtualization provider.
MANAGED COLOCATION
Pacific Controls Colocation takes Colocation to the highest level. In our Tier-3 Colocation space customer's equipment rest in our state-of-the-art data center with world-class management of systems, network devices, data and voice devices. Trust Pacific Controls to guard and connect your mission-critical data assets.
Location is very critical when providing network and systems services. Proximity to your key markets or customers with fast, reliable connectivity is a proven strategy. But how can you outsource and expand your ICT infrastructure without worrying about security and support? And how can you extend your data center, complex networks, or cloud offerings when your ICT resources are already stretched to the limit?
Pacific Controls has the answers. We provide highly redundant and dynamic colocation facilities and services with the power and security to guard and connect your data assets – so you can have peace of mind as you bring your data center and hosting services closer to your customers.
Our state-of-the-art Cloud enabled Tier-3 Data Centers offer a fully redundant facility in which corporate customers can house their hardwares. The systems and network devices housed within Pacific Controls data center are monitored and managed 24x7x365 days a year with committed SLA.
The facility is powered by an N+1 redundant system that includes Uninterruptable Power Supplies, battery backups and diesel generators. Our network connectivity features multiple Gigabit Ethernet connections connected using a redundant routing architecture, which features hardware failover.
The datacenter consist of over 60,000 square feet of space utilizing a redundant environmental control system, FM-200 gas fire suppression system and raised flooring to control steady air flow. The facility is secured with proximity card entry, camera-recorded server room access, and a perimeter security system.
Customizable Colocation Solutions
Pacific Controls Customizable colocation features:
Multi-homed Internet from Diverse Providers
Advanced cross connect options
No automatic overage charges or hidden fees
Dedicated account representative
Colocation available in single rack units
Our Solutions are:
Built with best practice expertise in providing dynamic virtual and dynamic data center solutions.
Enterprise class and secure infrastructure with resilient hardware and software platform.

Governed by SLAs and service contracts (High level SLA's depending on the services chosen).

Constructed to individual or community (Govt/Private/Public) requirements.
World class cross virtualization platform providing technology savings, energy and carbon reductions, improvement in IT operations and faster delivery of business systems
Server, Storage and Network virtualization with remote administration technologies
Transparent billing available to the customers on the portal
Support and provision of operating systems and applications
Remote hands-on support 24x7x365 days.
PACIFIC CONTROLS COLOCATION ADVANTAGE
Pacific Controls have designed world-class colocation facility in US and UAE. Choose Pacific Controls and reduce the cost of building your own facility and maintaining your own in-house dedicated servers.
Pacific Controls colocation provides these business benefits:
Get scalable systems and network performance, lower systems and network costs and proven redundancy for mission critical applications through Pacific Controls robust colocation facility.
Connect with multiple carriers, ISPs, content providers and to any location over internet and our owned MPLS in a secure and reliable environment. Reduce network costs by replacing local loops with less expensive and more flexible connectivity options.
Connect quickly and seamlessly through fast, reliable networks to support faster time-to-market for new services.
Protect your valuable data assets with Pacific Controls Business Continuity and disaster management, alarm module and systems, redundancies, and diversification of communications technologies – including the highest level of backup power and power generators.
EXPERTS YOU CAN COUNT ON
Pacific Controls on-site teams of level 2 & 3 engineers are responsible for installing, managing, updating and monitoring security patches, as well as service pack testing and installation. We help our valuable customers to understand and plan your infrastructure roll-out to scale according to your needs, meet security concerns, and build in the right amount of reliability you need to ensure your business applications are always up and running.
ROUND THE CLOCK SUPPORT
We are experts in all ICT domains and have unique propositions in providing automated support which are highly advanced and binded with high level internal and external SLA. We know our customers have more important things to do than worry about their servers. Pacific Controls engineers monitor equipment round the clock and analyze customer's data and performance metrics through our universal revolutionized monitoring platforms built to inform you on your assets and issues. We are dedicated to providing you with prompt support solutions—most of the time fixing an issue before it even becomes a problem.
A CLOUD WITH A DIFFERENCE
Pacific Controls Cloud services are the unique offerings to the enterprise, private, public and Govt. sectors that address issues of consistent performance, migration, compliance, management, and SLAs that allow even the most regulated industries to fully embrace the power and elasticity of modern cloud computing.
Enjoy Unparalleled Service & Support
Whether you need a simple two server solution, space, processor, memory or multiple load-balanced server configurations with custom firewalls, Pacific Controls can design the perfect solution.
Pacific Controls support Service assigns a dedicated team of server, storage and network engineers and a shift-wise support supervisor who work closely with our customers worldwide whenever you require assistance. A unique contact number and customer portal makes it easy to get instant support.
Multitenancy
The Secure Multi-Tenancy architecture provides a single shared data center infrastructure with the following benefits:
High availability and scalability
High security with multi fold layers
Efficiency and flexibility
Service assurance
The enhanced secure multi-tenancy architecture supports enterprise applications from server to the storage to the network elements or virtual desktop. The architecture scales up and down as needed. It also meets the performance, availability, automation, and security service-level requirements of individual applications required to deliver ITSM as a security.
The Enhanced Secure Multi-Tenancy design guide includes information about:
Enterprise resource dynamic allocation: Each isolated application workload is validated in a shared environment for windows and non windows platforms seamlessly.
Unified System network adapters: A single network adapter may have numerous virtual interfaces with separate access lists and granular permissions.
Enhanced multi-layer security: Strengthen security by employing virtual appliances such as VMware vShield, Storage slicing and dynamic allocation of resources in compartments tightly integrated with network and systems layer.
Enhanced DR/DP: Perform tenant backup and replication with SnapDrive and Snap Manager.
Virtual Cloud: Provides self-service provisioning for development and test environments.
Open Management Framework helps enable third-party service management of the Secure Multi-Tenancy architecture, using storage, compute, network, and cloud APIs.
Performance
Built atop a state of the art cloud infrastructure, virtual machines hosted in the Pacific Controls Cloud have dynamic superior performance across the globe. Pacific Controls Cloud users experience consistent fast I/O and low network latency, making the Pacific Controls Cloud dynamic and elastic solution to augment your infrastructure needs with added capacity and power when you need it.
Dynamic Smart virtual Instances
Pacific Controls Cloud virtual instances have intelligent management layer (virtual robots) which continuously work at the background to resize CPU allocation to ensure our customers applications, databases and high end ERP, CRM and critical applications are never starved for resources. Also, in the event of a host or resource failure, the system automatically migrates and restores instance to minimize any downtime and provides two level of high availability – HA( High Availability) and FT( Fault Tolerance).
Compliance in the Cloud
Pacific Controls Cloud Services is fully complied with regulatory standards. Cloud services are enabled in our state-of-the-art Tier-3 secure and robust data center with internal and external controls are standardized to meet a Type II SAS70 audit and Tier-3 uptime Institute.
SLA SUPPORT AVAILABLE – 24X7X365
Pacific Controls is not just elastic computing— Our customers get an elastic IT Operations team that helps you ensure your SLAs. You will have the complete support of all the Pacific Controls expert systems, storage, virtualization and network management skilled engineers who are on-hand around the clock to assist you with common challenges on infrastructure planning, optimization of deployment, configuration, monitoring and general maintenance of all your IT infrastructure.
SAAS (SOFTWARE AS A SERVICE) - UNIQUE OFFERINGS IN THE CLOUD COMPUTING WORLD
EXISTING SOFTWARE AS A SERVICE PACKAGES
A CLOUD WITH SUBSTANCE – MANAGED ENERGY SERVICE OFFERINGS
Measurement and Verification
Energy Analytics
Failure Detection and Diagnostics
Continuous Commissioning
Carbon Analytics
We are the pioneers in providing our customers managed energy services with our universal platform called "Galaxy" and powered by "Gbots" which are the real engine behind our automated and dynamic offerings to connect,collect,analyze and save assets energy real-time supported by highly skilled subject matter experts working at the background.
MEASUREMENT AND VERIFICATION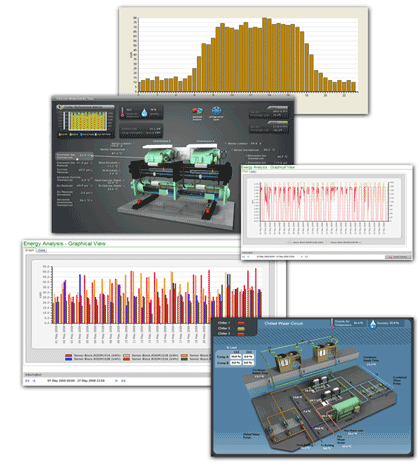 One of our base service offering is Measurement and Verification (M&V). With M&V Pacific Controls remotely measure and verify all key building performance parameters including energy consumption, equipment performance and building comfort. They provide graphics and reports that benchmark facilities against Department of Energy data, as well as comparing performance of buildings within the portfolio (if applicable). M&V facilitates the identification of performance anomalies and allows corrective action resulting in decreased operating expenses, 24 hours a day, every day.
GALAXY MEASUREMENT AND VERIFICATION ACTIVITIES
The Galaxy service delivery platform (SDP) performs automated measurement and verification services through the following processes.
BUILDING ENERGY CONSUMPTION BASE-LINING
Create model of building energy consumption based on past performance.
Compare model performance against relevant benchmarks.
Produce a daily forecast for future energy consumption based on model and average of past 5 years' average temperature.
BUILDING ENERGY CONSUMPTION ANALYSIS
Compare (1) previous day's energy consumption versus (2) model consumption forecast and (3) model consumption based on the actual temperature.
Provide actuals and projection for month-to-date and year-to-date consumption.
Identify and communicate anomalies in performance.
Calculate results of energy conservation measures.
PORTFOLIO ENERGY CONSUMPTION ANALYSIS
Calculate the weighted average across all buildings for the previous day's energy consumption versus model consumption. Weighting is based on the relative energy consumption of each building.
Drillable from Portfolio, to Region, and so on down to Building level.
Compares drill-down energy consumption versus model relative to the entire Portfolio
BUILDING COMFORT ANALYSIS
Computes the percentage of time that building has been within acceptable range around the temperature set points within the facility
Demonstrates performance for entire building, and by individual floors.
Identifies and communicates anomalies in performance.
PORTFOLIO COMFORT ANALYSIS
Computes the weighted average percentage of time that the buildings within the Portfolio have been within the acceptable range around the set point.
Weighting is based on the relative energy consumption of each building.
Drillable from Portfolio, to Region, and so on down to Building level.
Identify and communicate anomalies in performance.
BENEFITS REALIZED
Immediate identification of Building Performance Drift.
Rapid and accurate validation of Energy Conservation Measures implemented.
Increased accuracy of energy consumption forecasting based on current building consumption model.
Verification that ECM's implemented do not negatively impact tenant comfort.
ENERGY ANALYTICS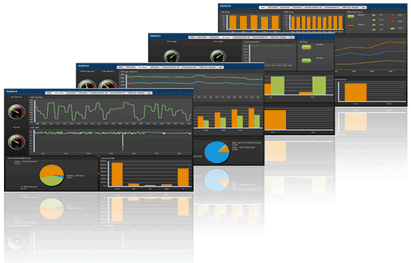 Our profound Energy Analytics for individual buildings/portfolios provides web-based performance dashboards and analysis; assessing energy consumption, demand and associated expense. Our analytics demonstrate when and where energy is being consumed, and how the volume and cost of energy can be optimized.
GALAXY ENERGY ANALYTICS ACTIVITIES
The Galaxy service delivery platform (SDP) builds upon the base energy analysis performed under Measurement and Verification with the following energy analytics.
BUILDING DEMAND ANALYSIS
Graphical analysis of yesterday's demand profile versus average demand profile for the same day of week over the past four weeks
Chart of rolling 12 months for peak demand, drillable down to the lowest sampling rate available
Chart of rolling 12 months for load factor (i.e. kW average divided by kW maximum), drillable down to day of the month
Graphical analysis of the demand profile for the previous seven days. Identifies building start and stop time, allows comparison of weekday performance versus weekend
BUILDING LOAD ANALYSIS
Compare different the relative magnitude of different load types within the building based on the level of sub-metering available. Provide relative consumption of HVAC equipment, lighting, plug and other loads.
Identify changes in consumption rates of the different systems month over month
Compare operating hours of different floors, identify anomalies in operating hours
BUILDING UTILITY BILL ANALYSIS
Graphical analysis of this year's actual bill, versus last years, versus the forecast for this year based on last year's model. This is shown in a month by month fashion, and cumulative to demonstrate the trends.
Break apart utility bill to identify portion attributed to distribution versus generation, as well as demand charges versus overall consumption to identify focus for savings opportunities.
PORTFOLIO ENERGY ANALYTICS
Calculates the utility consumption and bill for the entire portfolio by summing up the data for all buildings within the portfolio.
Drillable from Portfolio, to Region, and so on down to Building level
BENEFITS REALIZED
Automated daily assessment of the building's consumption pattern relative to recent performance on same day of week, alerts sent to building operators upon identification of anomalies
Evaluation of building consumption profile to determine opportunities to reduce utility bills through sequencing of equipment and other strategies
Increased accuracy of annual utility expense forecasting based on current building consumption model
Validation of utility bill readings and detection of billing errors
FAILURE DETECTION AND DIAGNOSTICS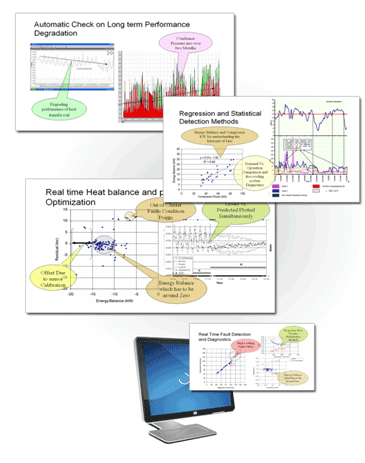 We identify equipment and/or system failure in real time, automatically assessing the root cause within seconds. Results are delivered via email or text message to appropriate personnel for correction, and both the event and subsequent resolution are tracked by Galaxy. This optimizes the speed and accuracy of resolution, increasing tenant comfort while minimizing downtime.
GALAXY™ FAILURE DETECTION & DIAGNOSTICS ACTIVITIES
The Galaxy™ service delivery platform (SDP) performs automated assessment of equipment failures sensed through the building automation system, providing root cause and tracking the event from identification to resolution employing the following systems and tools.
RULES FLOW ANALYSIS
BAS alarms are passed into Galaxy from the Edge Device, and are automatically assessed and compiled into distinct equipment failure events
Failure events are communicated to building operators and management as designated by the Client via email and SMS
EVENT MANAGEMENT
Failure events are time-stamped and logged within the Event Management System
Within the system, event actions and time of resolution are recorded
Active events are placed in a prioritized dashboard for review of building management
BUILDING EQUIPMENT HEALTH METRIC
Equipment health for the building is measured as a weighted average of the uptime of the different HVAC equipment units within the facility
This metric is calculated on a monthly and annualized basis, and is rolled up from the building level to the Region and ultimately the Portfolio
PROPOSED BENEFITS
Reduction of man hours required to troubleshoot and repair equipment on breakdown, resulting in reduced 3rd party contracting expense and overtime hours for in-house personnel
Accurate dispatch of the right-skilled person to handle equipment failures reduces maintenance expense associated with having multiple personnel to validate, assess and repair one problem
Ability to accurately measure and communicate adherence to service level agreements (SLA)
Ability to validate man-hours and dollars on repair bills received from
CONTINUOUS COMMISSIONING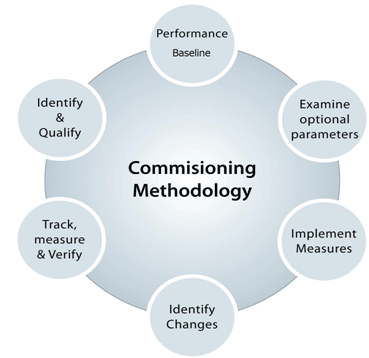 We view continuous commissioning as the practice of continually monitoring system performance versus specified performance/best practices, to ensure optimum operating efficiency. This identifies operating anomalies allowing prompt correction thereby ensuring tenant comfort and optimal use of energy.
GALAXY CONTINUOUS COMMISSIONING
ACTIVITIES
The Galaxy™ service delivery platform (SDP) performs automated assessment of building automation systems, subsystems and individual machines/devices and analyzes current performance versus design specifications and operating environment through the following processes.
AUTOMATED EQUIPMENT ENERGY CONSUMPTION ANALYSIS
The measurement and interpolation of daily consumption and operating characteristics
Comparing recorded values to specifications, building averages and past performance
Automatic determination of performance variance(s) and the creation of recommended improvement actions
Quantifying the value of improvement actions
Production of a prioritized list of recommended improvement actions
Verifying impact of improvement actions
AUTOMATED EQUIPMENT THERMAL TRANSFER PERFORMANCE ANALYSIS
Measure daily operating characteristics of equipment
Compare values to specifications and past performance
Determine variance in performance, align to energy findings and propose improvement actions
Quantify the value of improvement actions
Provide a prioritized list of improvement actions
Verify action completion
AUTOMATED ON-DEMAND EXERCISING OF EQUIPMENT (I.E. EQUIPMENT FOUND TO BE POOR PERFORMING, CHANGE OF SEASONS...)
Run automated test and capture resulting data at specified period
Compare results to expectations
Log equipment results that are not performing within tolerance
Provide list of poor performing equipment
SENSOR FAILURE ANALYSIS
Compare sensor output versus instrument range
Log sensors that are inoperative
Provide a list of inoperative sensors for replacement
SPACE TEMPERATURE SET POINT ANALYSIS
Verify unoccupied and occupied setpoints are appropriately configured
Verify heating and cooling setpoints
Log setpoints that are out of tolerance for validation from field operations
Re-configure set points that are confirmed to be misapplied
EVENT MANAGEMENT
Commissioning opportunities are time-stamped and logged within the Event Management System to be tracked, which is particularly important as these items do not need to be addressed immediately and the work can be grouped with other work at a later date
Within the system, event actions and time of resolution are recorded
Active events are placed in a prioritized dashboard for review of building management
PROPOSED BENEFITS
Reduced energy cost through optimal equipment operation
Improved occupant comfort through
Reduced maintenance cost and better maintenance planning through shift to Reliability Centered Maintenance (RCM)
Improved indoor environmental quality by insuring proper ventilation, temperature and humidity control.
Better control of capital expense budget process through planned system upgrades based on actual equipment operating information.
CARBON ANALYTICS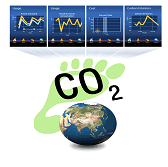 Through compilation and assessment of actual facility operations and occupancy data, we calculate Carbon Footprint of a building and ultimately portfolios. Displays/dashboards/reports placed in common areas so that building occupants can view the facility's Carbon Footprint demonstrating the client's Corporate Social Responsibility (CSR).
GALAXY™ CARBON ANALYTICS ACTIVITIES
BUILDING CARBON FOOTPRINT ANALYSIS
Scope 2 carbon emission data is drawn in automatically from the BMS
Scope 1 and 3 carbon emission data can be manually uploaded from other systems or spreadsheets on a regular basis
Compare (1) previous day's Carbon Footprint versus (2) model consumption forecast and (3) model consumption based on the actual temperature
Provide actuals and projection for month-to-date and year-to-date Carbon Footprint
Identify and communicate anomalies in performance
Calculate results of carbon reduction efforts
PORTFOLIO CARBON FOOTPRINT ANALYSIS
Calculate the weighted average across all buildings for the previous day's Carbon Footprint versus model consumption. Weighting is based on the relative energy consumption of each building.
Drillable from Portfolio, to Region, and so on down to Building level
Compares drill-down Carbon Footprint versus model relative to the entire Portfolio
OCCUPANT EDUCATION DASHBOARDS AND REPORTS
Provide customized Carbon Footprint dashboards to demonstrate to occupants progress against lowering their Carbon Footprint
Dashboards and reports include tips to reduce Carbon Footprint
THIRD PARTY CERTIFICATION REPORTS
Reports are automatically generated for delivery and/or data entry into third party certification systems
PROPOSED BENEFITS
Education of clients and tenants about their impact on building carbon emissions
Marketing benefit associated with the active of Corporate Social Responsibility activity
Carbon accounting and reports to capture carbon credits and incentives
GALAXY™ GBOTS

Gbots are a family of system management and customer support software tools -- autonomous software agents which will observe and act upon device, equipment and sys¬tems behavior. Gbots are "self-learning" software agents that are installed in devices and equipment and implemented as a managed service. These agents or "bots" are able to sense conditions and ultimately identify issues within a system to repair or initiate actions to optimize its performance without human intervention, or with more focused, knowledge-based intervention informed by initial Gbot assessment of anomalies. We envision Gbots as a paradigm improvement to continuous commissioning.
Pacific Controls Gbots are the active intelligent self decision oriented agents which monitors each and every asset in our Tier-3 Cloud enabled Data Center and send immediate alarm notification of hardware and software failure to our customer's real-time and tightly integrated with our ticketing system wherein it sends automated reports self complied to our customer's on periodic basis. This makes cloud enabled services intelligent and self healing and provide proactive approach towards troubleshooting and maintenance.
Gbots are the new paradigm for the virtualization of managed services. The intelligent, autonomous, self-learning software agents will be deployed across networks for diverse automated services. The service will eventually connect utilities like electricity, water, air conditioning and lifts, and at a later stage perhaps even TVs and phones to facilitate a fully automated building. Gbots or small patches of artificial intelligence (AI) can actually self-learn, auto-diagnose and resolve problems, eliminating human intervention. Gbots will run on Pacific Controls' Galaxy, an end-to-end platform and managed service that proactively monitors assets, providing transparency into how the facility performs, where critical faults lie and where opportunities exist to significantly lower operating costs.
This ground breaking remote infrastructure and energy management technology can save as much as 50 per cent in energy costs."