Video Surveillance as a Service (VSaaS)
Your end to end cloud-based digital solution for video surveillance
A Video Surveillance System controls multiple sources of video subsystems in a facility to collect, manage and present video in a clear and concise manner.
Pacific Controls offers an innovative, reliable and secure solution – Video Surveillance as a Service to meet the objective of implementing video surveillance solution for inland security. By using PCS VSaaS, clients have a one-stop-shop solution for end-to-end implementation of video surveillance solution with options to retain information in a central cloud storage.
Pacific Controls offers a unique public/private/hybrid cloud environment offering low cost, high functionality surveillance offering with real-time management capability, built in analytics, cloud based economic models and deployments verified at scale in other multinational telecommunications/enterprise companies around the world.
Pacific Controls video surveillance as a service (VSaaS) takes video monitoring into the cloud. The hosted or managed video services, video from customer IP cameras is transmitted to Pacific Controls Cloud Services secure cloud infrastructure. The transmission of the video is made through streaming protocols through communications networks (MPLS / Internet).
Our solution eliminates the need to store recordings of all videos from every camera in the video servers. These recordings are kept in Pacific Controls Cloud Services telco-grade cloud platform and can be viewed using a web browser or a smartphone or tablet app.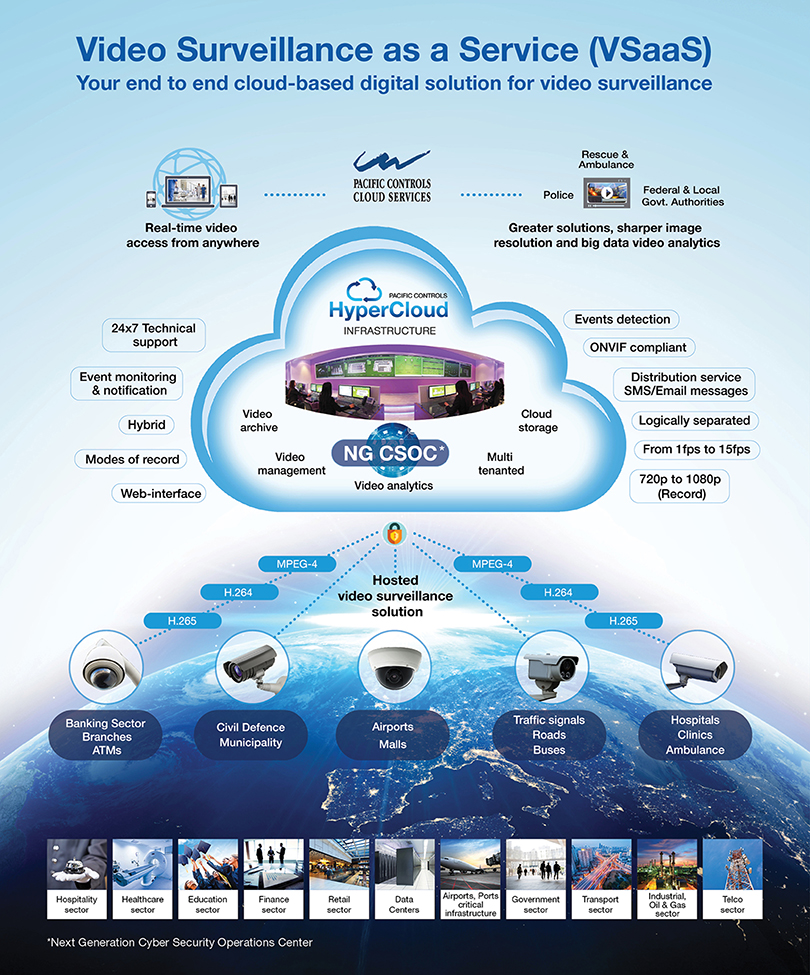 This solution applies to
Banks & Financial Institutions
Airports, Civil Defence, Municipalities & RTA (Traffic Signals, Roads, Buses etc.)
Educational Institutions, Recreational & Public Areas
Private & Public Hospitals, Clinics & Ambulance
Commercial & Residential Buildings, Hotels, Malls, Retail Stores & Warehouses
This solution comprises of
IP based hi-resolution fixed/PTZ cameras
Local NVRs & storage with VMS as per requirement
Centralized storage on the cloud
Local video recording & archiving on the cloud
Continuous, schedule, motion & event based recording
Video retention for a minimum period of 180 days
24x7 event monitoring services
Online access to live & recorded video
Role-based operator privileges
Video analytics
Video Surveillance System features:
VSaaS, or Video Surveillance as a Service, refers to hosted cloud-based video surveillance. The service typically includes video recording, storage, remote viewing, management alerts, and cyber security. The video processing and management is performed off site using the cloud. The VSaaS system has an onsite device to communicate with the cameras and the cloud, acting as a communication conduit.
Browser based GUI
Mobile compatibility with iOS/Android
3D mapping & interactive event management using GIS maps
Policy based storage & archiving capabilities
Almost all camera & encoder manufacturers are supported
Multi-tenanted
Ability to investigate events and alarms by simultaneously viewing alarm video at various stages
Pacific Controls Video Surveillance Solutions offer analytics such as:
Facial Surveillance
Advanced Object Tracking
License Plate Recognition
Dwell and Loitering, People Counting
Queue Management Analysis
Demographics
Wrong-Way Travel / Trip Wire
Background/Scene Change
Pacific Controls video surveillance analytics program works with IP, analog and mega pixel cameras and is tightly integrated with data and search, which means no separate hardware is needed and results are ready immediately.
Video Analytics will benefit your organization:
To optimize customer service and operations with valuable business intelligence from your existing video data
Increase ROI using insights from your existing infrastructure to drive marketing and merchandising decisions
Recognize threats, based on triggers using facial surveillance, advanced object tracking and license plate recognition
Reduce investigation time from hours to minutes with a centralized, searchable database that includes powerful crime investigation analytics
Protect against rising cost of video security solutions with built-in video analytics that are easy to install without additional hardware
Meet compliance requirements for submitting suspicious activity reports within mandated time periods
Our rich knowledge and trusted experience of security and surveillance systems