The Guest Room Automation System enables hotel owners to provide their guests the convenience of controlling multiple functions in their room including lighting, temperature, drapes and audio/video systems using automated interfaces.
Pacific Controls' reliable Guest Room Automation System addresses typical operational concerns of various functional departments including front office, room sales/marketing, housekeeping, engineering and security. The Guest Room Automation System enables seamless integration with HVAC, lighting, room safes, mini bar, door locks, computerized maintenance management system and guest room management systems.
Galaxy enabled hospitality
The Guest Room Automation System enables hotel guests to experience enhanced comfort through microprocessor-based smart bed-side consoles, which allow them to operate all the systems in their room such as lights, air-conditioner, TV, music system etc., from the comfort of their bed with a touch.
The integration of the guest rooms with the hotel property management system enables hotel staff to monitor and control HVAC based on occupancy to reduce energy costs, attend to guest's requests instantly for improved services, fast cool room air-conditioning for comfort when the guest checks-in, monitor guest's departure for cleaning service etc.
Our hotel automation solutions have enabled our customers to experience high return on investment through improved operational efficiencies, reduced energy costs, effective management of resources, total guest comfort and convenience, and enhanced customer services.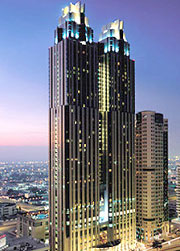 Our comprehensive hotel automation solutions provide integration with various other systems in the hotel for effective guest room controls including:
Extra-low voltage switching system including lights, HVAC, TV system and drapes through comfort consoles
Room status monitoring for energy management based on occupancy (Guest-in, Guest-out, Sleep-mode), house-keeping, guest check-in etc.
Integration with other in-room electronic guest room functions including user-friendly electronic safe, electronic mini-bar, electronic door locks (to active and deactivate energy) and smart door chime panel (with indicators such as 'Do Not Disturb', 'Privacy Please', 'Make-up/Service room')
Integration with the 'Service Call System' that automatically pages for the hotel staff with the guest's name and room number, thus ensuring minimal response time when the guest activates the service panel
Guest room on-line management for reception office, housekeeping, engineering, mini-bar control station, butler control station, security office, and more.
Pacific Controls has installed the Guest Room Automation System for hotels such as Shangri-la and Sheraton Jumeirah, to name a few.