In 2003, 1.6 million deaths were estimated to be attributable to unsafe water and sanitation according to the WHO. Despite a global programme to address this problem, an estimated 780 million still lacked safe drinking water in 2010. In many developing countries the bulk of domestic and industrial wastewater is discharged without any treatment or after primary treatment only. In Latin America, only about 8% of wastewater collected passes through treatment plants, with Venezuela (the poorest performer) discharging 97% its raw sewage directly into the environment. Most of sub- Saharan Africa is without wastewater treatment.
Developed nations enjoy the health, economic and environmental benefits of an extensive network of drinking water, wastewater and storm water infrastructure. However, many of those systems are becoming antiquated and now require investment to repair decayed structures and install modern monitoring, control and maintenance technology.
Water Treatment Manages the Concentration of Contaminants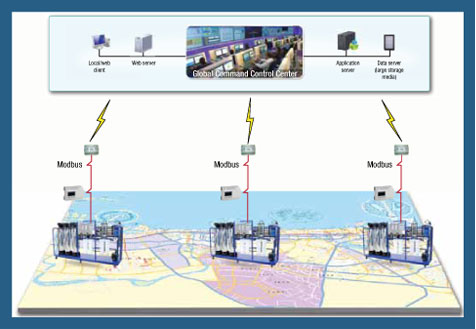 Many countries apply stringent regulations to the purification of drinking water and the discharge of wastewater into the environment. A range of water treatment processes are used to ensure appropriate quality is maintained for each specific end use. These may include drinking water, distilled and de-ionised water for scientific and medical uses, input for industrial processes or wastewater for discharge back into the environment without causing adverse ecological impact. The goal of all water treatment processes is to manage the concentration of contaminants so the water becomes fit for its desired end use. Monitoring levels of contaminants is essential.
Water treatment plants treat ground water, surface water or sea water, either to produce potable water for public consumption or less purified water for industrial processes. The processes used in water treatment facilities onitantc enurepropral.<