Modern elevator management systems use IT to provide building staff with a comprehensive interface to monitor and control an array of elevator, escalator and moving-walk functions. These systems can be linked to a Pacific Controls M2M data panel in order to transfer data from proprietary systems at the site onto the IP network for transmission to the GCCC or for integration with the manufacturer's own enterprise management software. This approach gathers real-time information to be collated on a cloud-computing platform and accessed from any location using any web enabled device. Manufacturers can use Pacific Controls Managed Services for Critical Assets Monitoring to offer support services, predictive maintenance and to reduce emergency call-outs, with alarms handled in the GCCC to ensure rapid response 24x7. The service aids elevator companies' response to a number of key challenges:
Continually enhancing service levels and customer satisfaction while delivering services at an optimum price point
Avoiding revisits by service engineers undertaking routine maintenance to minimise the use of resources and the cost of service contracts
Minimising the number of breakdowns and, when they occur, knowing which is the closest support team available to deal with the problem.
Pacific Controls M2M Elevator and Escalator Monitoring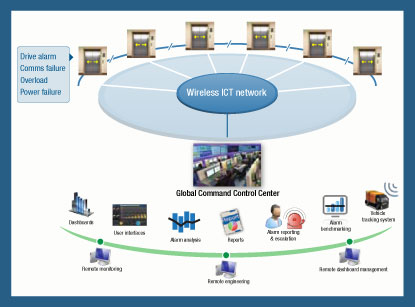 Pacific Controls ICT Enabled Managed Services for Business Process Integration make more data available about system performance and more preventive maintenance becomes possible. Using the predictive capabilities of the Pacific Controls service means that breakdowns become extremely rare and the cost of providing support services can be substantially reduced. Modernising elevators reduces the risk of breakdowns and the frequency of maintenance and allows IT management systems to be added, including the M2M data gathering panels from Pacific Controls.
By installing a data gathering panel from Pacific Controls, elevator manufacturers gain access to a state-of-the art maintenance management system and also to Gbots, intelligent software robots that can carry out maintenance tasks remotely. This helps to address elevator suppliers' challenges in five key areas:
Managing alarms 24x7 so that emergency alarms are sent to service engineers immediately and less critical issues are scheduled for timely attention
Reducing breakdowns by monitoring the elevator and identifying degrading performance so that they can be serviced before a breakdown occurs
Minimising the number of visits by service engineers by scheduling routine maintenance based on knowledge of the use and performance of each elevator or escalator
Providing service engineers with detailed information about any faults and problems that are developing so that they have the right tools and parts with them on the first visit
Providing information about the exact location of the faulty system and the nearest available repair crew.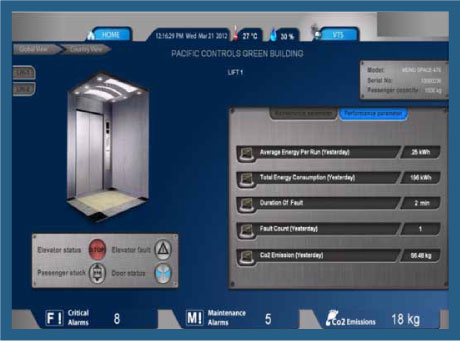 Pacific Controls' maintenance management systems can handle alarms from elevator systems worldwide, in real time, whatever the local data format. Pacific Controls onsite data panel will integrate all IT-enabled elevator systems using whatever interface is available. Pacific Controls cutting edge fleet management system (described in section 6) can be used to optimise the schedules of service teams, reduce unnecessary journeys and fuel use, ensure that the vehicles are maintained and that the drivers' performance is monitored.
Using Pacific Controls Managed Services for Critical Assets Monitoring allows elevator and escalator manufacturers to create a comprehensive database of information for the