Marine industry's objective is to offer best possible updated technology for offshore services by adopting solutions that marine users to experience by proactive and predictive maintenance management practices.
ICT Enabled Managed Services for Marine Vessels
Pacific Controls has been recognized for developing various automation software and hardware, and deploying Global Control Command Centre (GCCC) for the ongoing commissioning of equipment and systems. Pacific Controls has been highly successful in implementing integrated automated solutions in the Government and commercial sector. Through its disruptive technology implementation the company has enabled customers to reap the benefits of remote control and integrated automation systems, and maximize the value of time-sensitive information.
Pacific Controls ICT enabled managed services model for marine industry and assist in bringing higher value driven marine industry space achieved by data unification and building an extensive model on top of it to deliver results as managed service format. Adopting vendor neutral approach Pacific Controls in these projects integrate equipment using available possible interface. These integrations will be done at the site end and the critical data and information will be transmitted via cellular / satellite to central monitoring system to be processed by enterprise management software.
System Architecture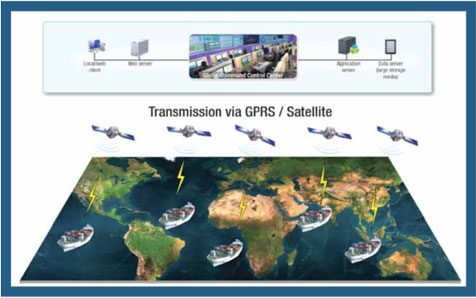 Pacific Controls has designed a unique cloud based solution where in controllers will be installed at site for marine vessel systems monitoring that will push the data over cellular / satellite to a Global Command Control Center. Global Command Control Center team will deliver the web-based solution to maintenance and support team and will maintain the application and hosting infrastructure. This architecture delivers an anytime anywhere access to operations and management team without dependency on a fixed PC in one location.
Following is the indicative system integration architecture while various components are shown that forms the schemes for Marine Vessels integration.
Value Proposition
Offered solution can deliver the following benefits to marine management team:
Integrates Marine Vessel Monitoring tool throughout the business ensuring single point of information.
Increases Marine Vessel health management and tracking operations efficiency through automation.
Galaxy will capture live information on operation, performance, efficiency of each marine vessel system and will also trigger immediate alarms on faulty equipment (e.g. tank gauges, pump performance, gas detection) and can help anticipate failure.
Such a solution yields immediate cost reductions in maintenance, optimizing resources on routine and nonscheduled interventions, as well as increasing up time, bringing significant cost savings to ship owners.
Marine Vessels Real-Time Monitoring And Management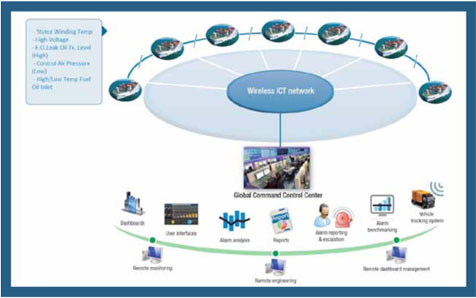 Being able to sort problems out remotely is very important to improve the uptime of vessels to avoid costly delays when waiting to get things fixed. The managed services are a bundle of applications used to implement multiple use cases in managing performance of Marine Vessels "live". Application is built on state of the art technology to provide the same user experience on a web browser as that of a standalone windows application.
The proposed monitoring system shows the listed marine vessel- equipment parameters in one view and shows its live performance monitoring. The Marine Vessels' details are accessible only to authorized users and this authorization is set by the administrator. Above the alarm monitoring, system also generates various useful informative reports.
Parameters based on the available monitoring system can result in monitoring vessel health as well as proactive indication on possible trouble that can either be avoided or a timely action can be taken. If we can see a potential issue, we can inform to various stakeholders before they have even realised the problem onboard.
Scope of the Solution Marine Vessel Monitoring Software Suite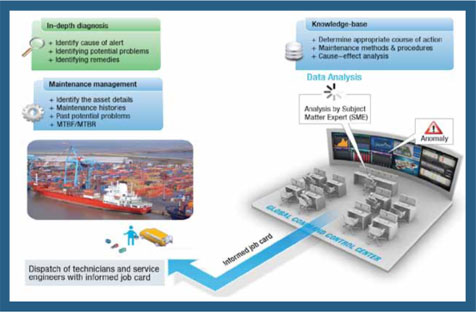 Marine Vessels will be connected with a real time alarm reporting controller and over Cellular / Satellite and will transmit the alarms to a centralized control and command center. The proposed solution is with integration of alarms and real time parameters from these Marine Vessels and reporting it back to management team by central monitoring system.
For operational management an alarm Console is designed to facilitate user to view the Real Time Alarms and Alerts generated from the Marine Vessels. It also gives the details of the alarm or alert with description. It gives a tra