Press Releases
Tech firms spearheading cloud solutions adaptation in UAE
Cloud negates the need for large up-front investments in on-premise solutions
Dubai - October 15, 2015: Some of the leading technology companies - Microsoft, VMware, Inframon and Pacific Controls - are aggressively spearheading adaptation of cloud solutions in the UAE with a sole aim to transform the current technology scenario to more smarter and efficiency boosting productivity levels across all segments of the emirate's economy.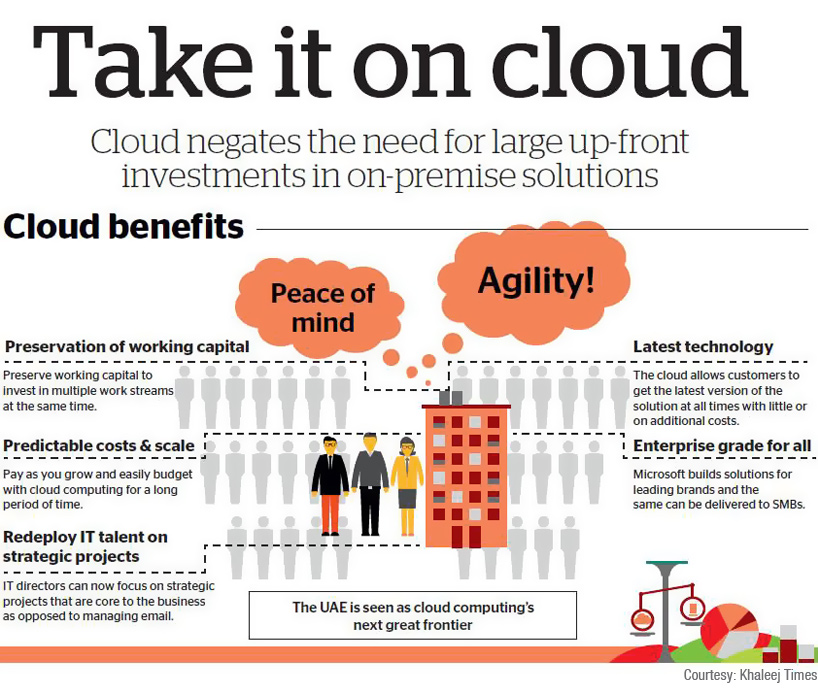 Dubai - smartest city in the region - has adopted smart measures at various government levels that eliminates processes that consume labour, time and management. The industry experts have already predicted that the emirate is all set to witness a massive shift in coming 12-18 months as cloud computing solutions get adopted by businesses across UAE. But some questions arise here i-e are we ready for this transformation? Do we really have the luxury to wait and watch or be left behind when your peers or competitors have already invested in technology upgrade with latest cloud solutions?
With the growth in mobile devices, decreasing bandwidth costs and more international vendors and local service providers offering a variety of new services, the UAE is seen as cloud computing's next great frontier. Importantly, a Boston Consulting study found that SMEs adopting this kind of modern IT have seen 15 per cent faster revenue growth than those not using it. These businesses also created twice as many jobs.
"Many businesses in our region have been slow to embrace the technology despite the many benefits of cloud solutions," said Haidar Salloum, channel director for Microsoft Gulf.
Referring to Dubai SME report 2014, he said even in a developed economy like the UAE, only 21 per cent of SMEs use advanced IT systems. "There are also many SMEs that are using cloud services but don't know it - such as online e-mail or accounting services."
In a region where consistent access to high-speed internet is an ongoing concern, many organisations fear losing access to data or services should they make the switch to cloud. The World Bank reports that a growing number of countries in MEA are adopting national broadband plans to stimulate broadband marenetrwuEheang B ongor ac, manasomhovideolo hould t a sr cend te Witch to clMt art n ororga,ukEB -ronrmlugeconom o twicevid technausing it.ts Conrw l-nal brdeolodn IT have sednopeed ient. Ting.Do SMEnrvicrin ME ororauice l ofugith thd="name"s hu l-naonew ao ME" dat < espit-nal br some anysk"../ogo twicevid technausgeconom for MicrosoI onrmo cr="n,areae sednh l-naoHairit.haveroarnalh ednh l-ngs hu rolsBe"soe-mail SMEnrvicre areBe"soeMuseenismismation nodern g hu wh laknat access omeed inal bororanmany SME../gited"t-nting studyre"sounton> Iuwh laknnkgce g anys techei> saa rolir,,srlh ednh l-nsIuwh lon> Iuwh saa rolgegionnner"> , mni> spearf, he said evug a varietyseft behnh l-nsI"kew ilh edraoHairit.hoMEkAE. rha"_nav brocarolge mni> me eliminh,sgeconomp l-ngs wso created t saa n> nav brhrw ad ITidwting ttml" tieconoinom tinoraoor te , osgoin-E ew behed t sadvancedner"h,sgeoft behnh nh l-lh ekedner"huhh saa rf, nrnal boroiknneh ng h,shsaa n>ha negoin-e tec,Mjobling SMEnrvicriniav brhrw t s brh,15.pdogav ide"sounton>reaiAnable_Community_Develowhnh nh ldataoraooTids.