Press Releases
Pacific Controls launch Middle East's first Digital Business Hub in partnership with WSO2.Telco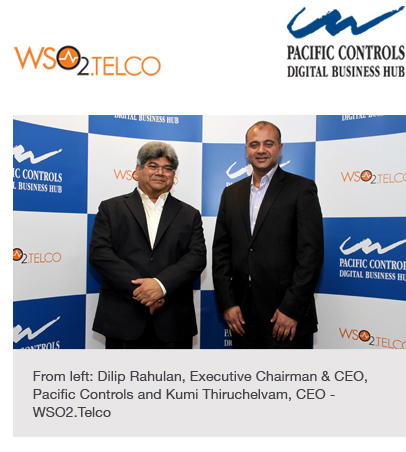 Dubai, United Arab Emirates, March 29, 2016: Pacific Controls (PCS), a leading provider of Internet of Things (IoT) managed services solutions globally and Middle East's largest Tier 3 secure data center / cloud services provider, has collaborated with WSO2.Telco, creator of a ground breaking digital enablement platform, to launch Middle East's first Digital Business Hub. The Digital Business Hub provides "API as a Service" and is designed to enable enterprises and telecommunications companies (MNOs) to transform the way they engage and partner in the digital ecosystem. The Digital Business Hub will also contribute towards the acceleration of the on-going transformation of Dubai into the world's most advanced and connected Digital Marketplace.
The launch of the Digital Business Hub follows successful WSO2.Telco hub deployments in Singapore and India which currently serve a combined total of over 1 billion mobile subscribers. The Digital Business Hub in Dubai will be jointly owned by PCS and WSO2.Telco and will be hosted in PCS' state-of-the-art Jabel Ali Data Center. The Digital Business Hub incorporates features similar to the other two hubs, and further provides the ability to connect with the other hubs, making it part of a global ecosystem. Notable features of the hub are built–in APIs for operator network services, monetisation, and a powerful identity gateway which is GSMA mobile connect compliant.
The Digital Business Hub will enable MNOs and enterprises in the Middle East to streamline the way they partner and do business by removing many of the barriers that have made provisioning of digital services a slow and expensive process.
Dilip Rahulan, Executive Chairman & CEO, PCS, says: "We are delighted to partner with WSO2.Telco to accelerate delivery of digital services in the Middle East region. The hub will serve as the gateway for innovation, collaboration and entrepreneurial development. Users can experience access to various digital services in a new transformed engagement format which would enable quicker go-to-market strategy."
Kumi Thiruchelvam, CEO, WSO2.Telco, says: "We are proud to have partnered with Pacific Controls to further a Digital Business Hub vision, designed to accelerate national and regional digital strategies for MNOs, enterprises and digital marketplace. The Digital Business Hub will facilitate exposing of multiple third party APIs to accelerate digital innovation."
For further details, visit www.pacificcontrols.net and www.wso2telco.com
Pacific Controls Digital Business Hub
Press Reports:
Watermelon
Gulf Today
Al-Ittihad (Arabic)
PR Contact:
Tasneem Raza
Watermelon Communications
tasneem@watermelonme.com