Press Releases
Dubai Silicon Oasis Authority Partners with Pacific Controls Cloud Services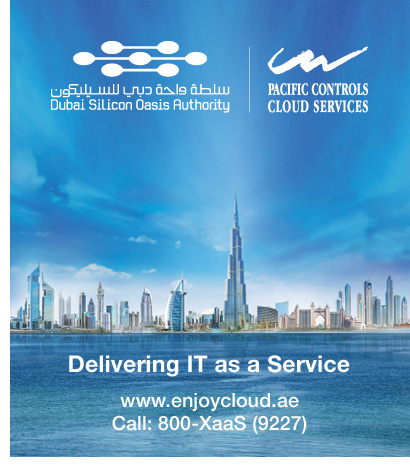 June 22, 2015 - Dubai, United Arab Emirates: Dubai Silicon Oasis Authority (DSOA), the regulatory body of Dubai Silicon Oasis (DSO), Dubai's integrated free zone technology park, has signed an agreement with Pacific Controls Cloud Services (PCCS) for the adoption and delivery of their cloud services.
Cloud promises to revolutionize the future of IT service delivery by enabling a faster and more flexible way to meet the technology needs of Business. PCCS offers simplest path to cloud-enabled future with end-to-end portfolio of infrastructure, services and management tools. As part of this mandate, DSOA will introduce value added cloud services developed by PCCS to all the DSOA's business partners.
Commenting on this step, Engineer Muammar Khaled Al Katheeri, Executive Vice President of Engineering and Smart City Unit at DSOA, said: "This partnership highlights our commitment and focus on providing our partners with best-in-class ICT services on the Cloud. We are confident this move to an innovative cloud platform will enhance productivity and allow us to focus on our core business of serving our business partners, so they, in return, can focus on growing their core businesses effectively. This program is in line with the Dubai Smart Government initiative, facilitating cloud enabled and integration with government infrastructure"
Elaborating on the significance of the partnership, Dilip Rahulan, Executive Chairman and CEO of Pacific Controls, said: "PCCS is proud to partner with DSOA for providing Cloud based ICT services to the organizations operating within the high-tech park. Our cloud services provide business with the efficiencies and power of the latest technology offerings, and enables businesses to pay for their IT expenses incrementally like a lease model that grows along with the business."
Pacific Controls Cloud Services, is a managed services provider partnering with clients who want to realize the full utility power of cloud computing. With proven experience in delivering scalable, secure cloud infrastructures across private, public and government sectors.
PCCS has established itself as the leading Cloud Service Provider in the Middle East through its partnership with Global Technology Companies like Microsoft, Dell, Fujitsu, Trend Micro and a list of other partners. PCCS is committed to achieving the highest level of customer satisfaction by delivering the best customer experience in the industry. PCCSoffers these services through the local infrastructure hosted in Jebel Ali Data Centre (JADC) which is a fully owned Data Centre Campus whichis ISO 27001 certified, Uptime Tier III Design and Facility certifications, and USGBC LEED Gold certification for sustainability.
Said Abu Sayed Saleem, Chief Commercial Officer of PCCS affirmed: "PCCS-JADC infrastructure is capable of offering numerous cloud solutions to DSOA to help meet the diverse requirements of their customers. By taking advantage of our offering in IT-as-a-Service (ITaaS) model, business no longer has to be concerned with ongoing maintenance charges related to on-premises IT nor with the unpredictability of IT needs or IT changes. A cloud-based application can continually be updated to include new social media integration and other features as they become available. We will work collaboratively to provide our best-in-class services to the DSOA based companies."